Wednesday 27 June 2012
How does Tom Cruise look so young? Nightingale poo facials!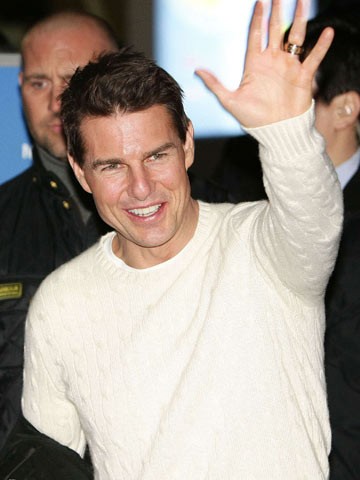 Tom Cruise is famous for his youthful good looks
Ever wondered how megastar Tom Cruise keeps his skin looking so young and smooth?
Well, Now can reveal that the Rock Of Ages hunk, who turns 50 on 3 July, is indulging in Victoria Beckham-style bird poo facials!
Yep, you read that right.
A source tells us: 'Tom doesn't go in for Botox or surgery, but he does pay close attention to all the new and popular natural treatments.
'He recently started experimenting with the nightingale poo facial.
'It was recommended by a Hollywood pal and the results have been fantastic.'
Pauses to vomit*

The £135 treatment - made famous when Posh was reported to have used it - was invented by beautician Shizuka Bernstein and is now big in high-end New York, LA and London spas.

It involves mixing nightingale excrement with rice bran and water, then applying the mixture as a face mask under UV lights.

The poop contains enzymes that work as a powerful exfoliant, plus guanine, a compound that gives the face a nice pearl-like glow.

Read the full story about Tom Cruise in Now magazine dated 2 July 2012 - out now!

SHOCK! Suri Cruise steps out wearing bright red lip gloss at 3>>

SEE PICTURES! Katie Holmes and Suri Cruise see the sights in Brazil>>

SEE PICTURES Katie Holmes enjoys a day out with daughter Suri Cruise in New York>>