Monday 25 June 2012
Emma Watson sparks outrage as she steps out with puppy dyed bright pink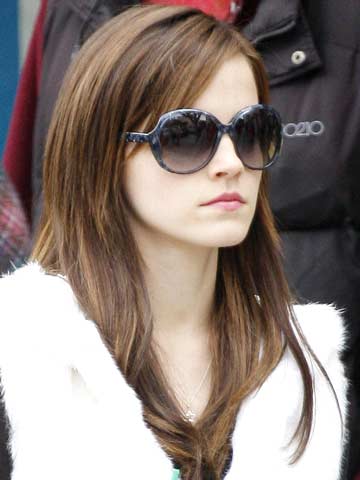 Emma Watson recently finished shooting new film The Bling Ring
Emma Watson has caused controversy among dog lovers after being spotted leaving a dog grooming salon with a bright pink pooch.
East London's Groom Dog City was bombarded with abusive emails after Emma, 22, was snapped with fuchsia Maltese terrier puppy Darcy - who belongs to her model friend Sophie Sumner.
The parlour insists they use dog-friendly vegetable-based dyes to transform pets, but some experts say there are other issues with the procedure.
'Dogs are intensely visual creatures, and I have no doubt they would be aware of a major colour change, particularly green and blue hues which their eyes pick up more,' leading animal behaviourist Dr Roger Mugford tells the Daily Mail.
'It would likely affect the way other dogs interact with them, too.'
However, Harry Potter actress Emma took to Twitter last night to reassure her fans that the mutt had been styled for a good cause.
It turns out that Darcy's new £90 'do is for charity.
'Ayeye. Just to clarify one more time that I don't have a dog. @PinkDarcyDog is pink because her owner is raising money for breast cancer,' Tweets Emma.
'#factcheckingtakesfiveminutes.'
CELEBRITY WEIGHT LOSS Celebrity diets>>
SEE PICTURES Harry Potter: The stars grow up>>
SEE PICTURES Harry Potter star Emma Watson Style File>>
Anna Duff