Monday 25 June 2012
'Still in love' Matt Smith and Daisy Lowe spotted cuddling at Radio 1's Hackney Weekend festival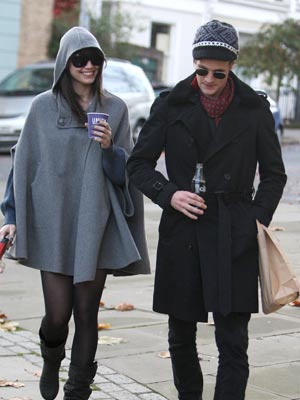 Matt Smith and Daisy Lowe split in November 2011
Matt Smith and Daisy Lowe have sparked rumours that they've rekindled their romance after they were seen getting cosy backstage at Radio 1's Hackney Weekend festival.
The Doctor Who actor, 29, was seen hugging Daisy, 23, in front of revellers at the 2-day event.
'When Daisy came over he didn't seem to care who was watching. His eyes just lit up and they were locked into deep conversation - hugging each other all the time,' says an onlooker.
'At one point he gave her bum a big squeeze.
'If they're not together any more then they have a funny way of showing it.'
Matt and Daisy split in November 2011 - supposedly because he didn't want to settle down.
But they've been spotted together several times since breaking up and Daisy was recently photographed leaving Matt's London flat.
'Matt adores Daisy,' a friend tells The Sun.
'He has been obsessed with her for years, so it's no surprise that he's still in love with her.'
SEE PICTURE Doctor Who star Matt Smith holds hands with Daisy Lowe>>
SEE PICTURES Doctor Who past and present>>
SEE PICTURES Matt Smith leads the way at Doctor Who signing>>
Anna Duff