Monday 25 June 2012
'Sad' radio DJ Lucy Horobin: I haven't said anything to the press about Harry Styles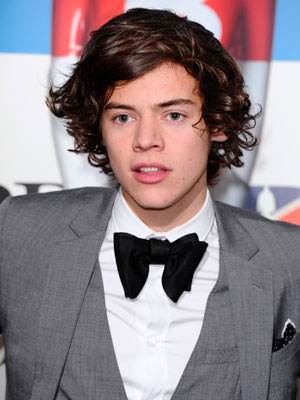 Harry Styles is currently on his first headline tour of the US with One Direction
Radio DJ Lucy Horobin has Tweeted about the allegation she had a hot romance with One Direction star Harry Styles.
It's claimed the 32-year-old hung out with Harry, then 17, for 3 months last year while she was temporarily estranged from her husband - and before the 1D hottie romanced Caroline Flack.
Lucy and Harry met when she interviewed 1D about their debut single What Makes You Beautiful and Harry flirted with the pretty brunette live on air the following month.
'To clarify, I haven't said ANYTHING to any press, nor do I wish to.
Thank you to those of you who have said kind words today. Xxx,' Tweets Lucy.
Since reports of the pair's flirtation emerged over the weekend, Lucy has suffered an intense Twitter backlash from angry One Direction fans.
'@LucyHorobin stupid f*cking b*tch,' writes one.
Another adds: '@LucyHorobin haha you stupid f*cking whore. god you must have some issues to f*ck a 17-year-old boy hahahahaha.'
The presenter is starting to show the strain of being linked to Harry, now 18.
':(,' she Tweeted yesterday, indicating her sad face.
SEE PICTURES Harry Styles and One Direction perform on German TV show>>
SEE EXCLUSIVE VIDEO Teen Now meets Harry Styles and One Direction>>
SEE VIDEO One Direction mobbed by screaming fans in London>>
Anna Duff
Harry Styles supports Cancer Research UK
One Direction coming soon

Teen Now meets One Direction part 1
Teen Now meets
One Direction
part 2
Capital FM Jingle Bell Ball part 2 with One Direction