Monday 25 June 2012
One Direction star Louis Tomlinson's family name new hamster after his girlfriend Eleanor Calder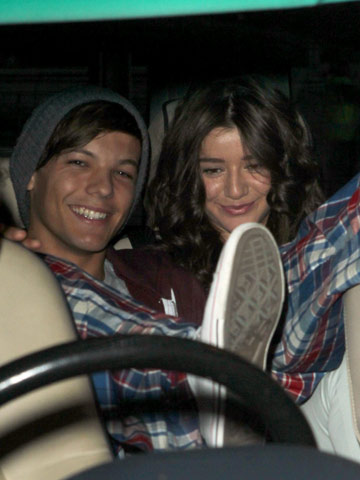 Louis Tomlinson and Eleanor Calder were happy to be reunited the last time he was in the UK
Eleanor Calder has clearly become close to boyfriend Louis Tomlinson's family.
The One Direction star's younger siblings Daisy and Phoebe have decided to name their latest pet after the 19-year-old student.
'@drdeakin How cute is our new little hamster? She was named 'Eleanor' by the twins @EleanorJCalder,' Tweets Louis's mother Jay, along with a photo of the animal.
Eleanor replies: '@JayTommo @drdeakin Haha! Cute! Can't wait to meet her :) xxx.'
Mum Jay and Eleanor are both missing Louis, 20, while he's on 1D's first headline tour of the US - which ends this weekend.
But their time away from the singer has given them an opportunity to bond.
When a fan Tweeted: '@JayTommo it would be perfect if @EleanorJCalder was your daughter-in-law xx,' Jay replied: '@elounorph @EleanorJCalder Yes it would :) x.'

SEE PICTURES One Direction sign copies of album Up All Night in New York to mark US release>>
NEW PICTURES One Direction and red carpet guests at the Brits 2012>>
SEE EXCLUSIVE VIDEO Teen Now meets Louis Tomlinson and One Direction>>
Anna Duff

VIDEO: One Direction's Harry Styles supports Cancer Research UK

VIDEO: One Direction coming soon
VIDEO: Teen Now meets One Direction part 1
VIDEO: Teen Now meets
One Direction
part 2
VIDEO: One Direction at Capital FM Jingle Bell Ball part 2