Friday 22 June 2012
Harry Styles' mum Anne Cox: I would so watch the film version of Fifty Shades Of Grey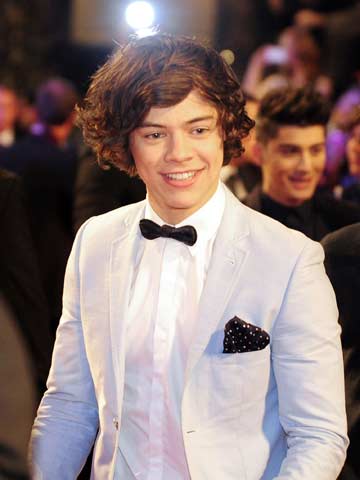 Harry Styles is currently on tour in the US with One Direction
It seems Harry Styles' mum Anne Cox has been reading saucy novel Fifty Shades Of Grey.
Anne was thrilled when comic Alan Carr joked on Twitter that he'd been asked to star in the big screen adaptation of the tale.
'My agents just called i've got a big part in the movie they're making of
50 Shades of Grey - is it any good? I haven't read the book,' Tweets Alan, 36.
Anne replies: '@AlanCarr I would SO watch that!'
Fifty Shades Of Grey tells the story of college graduate Anastasia Steele and manipulative billionaire Christian Grey, who asks her to become his 'submissive' in his 'red room of pain'.
Unfortunately for Anne, 44, Alan won't really be starring in the film.
Instead, actors Ryan Gosling, Robert Pattinson and Michael Fassbender are rumoured to be in the frame to play leading man Christian.
'Only joking. Its just when i was on holiday EVERY woman was reading 50 Shades Of Grey and getting horny. Maybe i'll do the audio book,' Tweets Alan.
Harry Styles news, pictures and video - all in one place>>
SEE PICTURES Harry Styles' life in pictures>>
SEE PICTURES Harry Styles and the 1D boys have fun in the sun in Australia>>
Anna Duff

Harry Styles supports Cancer Research UK
One Direction coming soon

Teen Now meets One Direction part 1
Teen Now meets
One Direction
part 2
Capital FM Jingle Bell Ball part 2 with One Direction