Thursday 21 June 2012
One Direction: Our fans' mothers hit on us - they grab and pinch and suggest things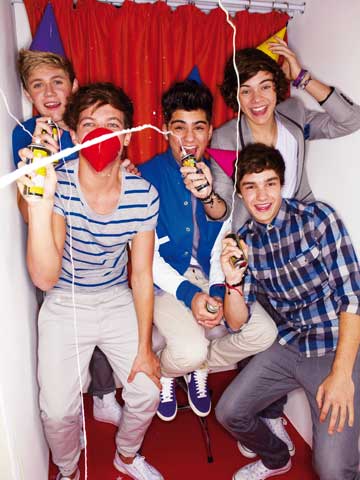 One Direction are currently on tour in the US
One Direction are followed by screaming fans after every gig they play - but it's the teenage girls' mums who are more likely to come on to them.
The boys say they sometimes having a bit of trouble trying to deal with eager cougars' advances.
'Mums are more confident than their daughters and so they will go the extra mile to grab you and suggest things,' says Zayn Malik, 19.
Louis Tomlinson, 20, adds: 'Ask Harry - they just go for it.
'They will grab and pinch and it gets quite tricky.'
Harry Styles, 18, is known to be a fan of older women after his highly-publicised relationship with 32-year-old The Xtra Factor presenter Caroline Flack.
It seems he'd be happy to date an older 1D fan if one caught his eye.
'I would not have a problem,' Harry tells The Sun.
'As long as they were nice and made me smile.'
NEW PICTURES One Direction teen star Harry Styles' rise to fame>>
SEE PICTURES Harry Styles and One Direction perform new song Gotta Be You on German TV show>>
SEE PICTURES Harry Styles and One Direction at Capital FM Jingle Bell Ball 2011>>
SEE EXCLUSIVE VIDEO Teen Now meets Harry Styles and One Direction>>
SEE VIDEO One Direction mobbed by screaming fans in London>>
NEW PICTURES One Direction promote new single What Makes You Beautiful on Radio 1>>
Anna Duff
Harry Styles supports Cancer Research UK

One Direction coming soon


Teen Now meets One Direction part 1
Teen Now meets
One Direction
part 2
Capital FM Jingle Bell Ball part 2