Saturday 23 June 2012
Peter Crouch hands over £4,000 for rare Gibson guitar for Abbey Clancy's teenage brother after losing bet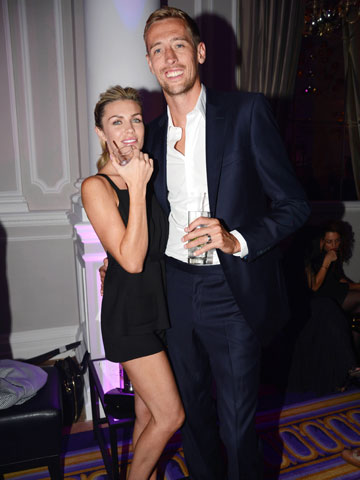 Abbey Clancy and Peter Crouch married in June 2011
Peter Crouch was forced to fork out £4,000 for a brand new guitar after losing a bet to wife Abbey Clancy's younger brother John.
Stoke City striker Peter, 31, reckoned he could beat the teenager in a swimming race during a recent family holiday in Cyprus - but it seems he should stick to football in the future.
'I had a right touch with the bet on holiday,' says John.
'Peter said to me he could easily win in a race. He was a bit overconfident because he's tall and fit.
'What he didn't know is I used to swim for my school.'
Peter promised John he'd buy him the most expensive guitar he could find if he triumphed in the race.
But sneaky John - who fronts rock band The Razz and recently supported The View in Liverpool - managed to relieve his brother-in-law out of a little more money than he'd anticipated.
'I won so I hunted out this rare Gibson guitar in London,' John tells The Sun.
'I went down to meet the guy. He was after £4,000 but I haggled it down a bit.
'I never told Peter though, so I had spare change to spend.'
NEW PICTURES Abbey Clancy joins guests at the GQ Men Of The Year Awards 2011>>
PHOTO GALLERY Abbey Clancy takes mum to India>>
SEE PICTURES Abbey Clancy and Peter Crouch - their love story>>
SEE PICTURES Engaged celebrities>>
SEE PICTURES Pregnant celebrities>>
SEE PICTURES Celebrity births 2011>>
SEE PICTURES Celebrity baby names A to Z>>
Anna Duff