Wednesday 20 June 2012
Zayn Malik accused of 'pimping' Islam to One Direction fans in bizarre post by American blogger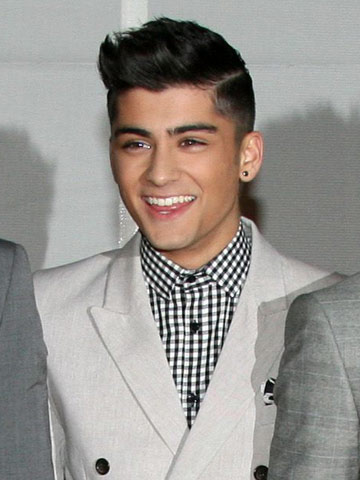 Zayn Malik is currently on tour in the US with One Direction
Zayn Malik has been accused of trying to convert teenage One Direction fans to Islam through his Twitter posts.
American blogger Debbie Schlussel - who describes herself as a conservative political commentator - says Zayn 'pimped' the religion by asking if any of his followers were fasting for Ramadan and Tweeting a common declaration of faith.
'the scary thing is that millions of girls in America and around the world are infatuated with the members of One Direction, including Malik,' writes Debbie.
'He's no dummy. He knows the power he has over these mindless girls and is using that influence to preach the Islamic faith to them and try to convert them. It's dangerous.
'Keep your daughters away from Zayn Malik's enticing jihad. With the boy band One Direction, it's all about pimping Islam amid the deceptive visage of angelic, effeminate boys in a band.'
Debbie also slammed Zayn, 19, for his Arabic tattoos and for wearing a cotton scarf called a keffiyeh, which she describes as 'the official garb of Islamic terrorism'.
But members of the Muslim community have stood up for Zayn - whose mum is English and dad is British Pakistani - and praised him for embracing his religion.
'I would say all the power to him to be respectful to his faith and be proud of it,' says Zudhi Jasser, an American Muslim who frequently warns of Islamic radicalisation.
NEW PICTURE Zayn Mailk's latest etching>>
SEE PICTURE Zayn Malik shows off Kiwi fern tattoo>>
SEE PICTURE Zayn Malik's poses with tattoo artist>>
SEE PICTURES Celebrity tattoos>>
SEE PICTURES One Direction and Zayn Malik sign copies of album Up All Night in New York to mark US release>>
SEE PICTURES One Direction continue US tour without Zayn Malik>>
SEE PICTURES Zayn Malik and One Direction are red carpet guests at the Brits 2012>>
Anna Duff
VIDEO: One Direction's Harry Styles supports Cancer Research UK

VIDEO: One Direction coming soon
VIDEO: Teen Now meets One Direction part 1
VIDEO: Teen Now meets
One Direction
part 2
VIDEO: One Direction at Capital FM Jingle Bell Ball part 2