Wednesday 20 June 2012
Coleen and Kai Rooney so proud of daddy Wayne as his goal gets England through to Euro 2012 quarter-finals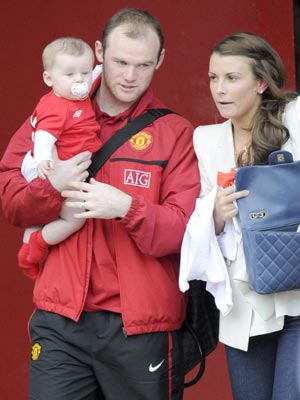 Coleen Rooney gave birth to son Kai in November 2009
Wayne Rooney was cheered on by wife Coleen and 2-year-old son Kai as he scored England's winning goal against Ukraine last night.
The pair - who watched the match from their Cheshire home after visiting Wayne in Poland at the weekend - were thrilled as the 26-year-old's header took England through to the Euro 2012 quarter-finals.
'There's lots of screaming in our house!!!! Yayyyyyy Dadddddyyyy!!!!!,' Tweeted Coleen, 26.
'Had my red converse on for the match tonight @ConversebyGem. I'll have to wear them Sunday now ha!!! X.'
Earlier in the day, Wayne had told his Twitter followers that he was listening to Arctic Monkeys, Bon Jovi and Scottish band Deacon Blue to get himself pumped up before heading onto the pitch in Donetsk, Ukraine.
The footballer hadn't yet played in the tournament after incurring a 2-game ban for kicking another player during the qualifier and was calming his nerves with his Spotify playlist.
'#NowPlaying the playlist Wazza pre match tunes on #Spotify,' he Tweeted.
SEE PICTURE Kai Rooney dressed as Harry Potter>>
SEE PICTURES Wayne Rooney rocks new 'do in Manchester>>
NEW PICTURES Coleen Rooney launches Littlewoods collection>>
PHOTO GALLERY Coleen Rooney's style file>>
SEE PICTURES Wayne and Coleen Rooney's wedding photos>>
SEE PICTURES Wayne and Coleen Rooney - their love story so far>>
SEE PICTURES Coleen Rooney launches her new perfume Butterflies>>
Anna Duff