Wednesday 20 June 2012
SHOCK SPLIT! Johnny Depp and Vanessa Paradis break up after 14 years together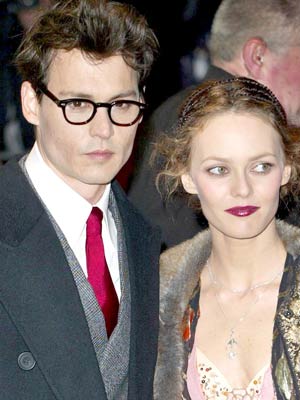 Johnny Depp and Vanessa Paradis have 2 children, Lily-Rose, 13, and Jack, 10
Johnny Depp and Vanessa Paradis have announced their relationship has come to an end.
'Please respect their privacy and, more importantly, the privacy of their children,' says their publicist who confirms Johnny, 48, and Vanessa, 39, have 'amicably separated'.
Rumours about problems between the pair, who got together in Paris in 1998, have been circulating for some time but they were thought to be working things out.
Insiders on the Lone Ranger set last month said that Johnny was Skyping Vanessa daily and seemed 'happier than he has in a long time.'
And Vanessa has always dismissed reports of any troubles.
'In the winter I separate, in the summer I marry,' she quipped at the Paris premiere of Café De Flore.
'You know, when I eat three peas, I'm pregnant. When I visit a city, I'm buying a house.'
On 25 April Johnny was spotted at Las Vegas airport, followed by bisexual actress Amber Heard, his co-star from 2011 movie The Rum Diary.
There were suggestions that Johnny had grown close to Amber, who'd split from her girlfriend of three years Tasya Van Ree a month earlier.
All parties denied the allegations, but Amber accidentally fanned the flames by openly talking about the dad of two, cooing: 'He's charming, he's a wonderful artist and such a talented person.'
Neither Amber nor Johnny's reps gave a comment.
Johnny Depp was voted one of Now's 50 sexiest men ever>>
SEE PICTURES Johnny Depp at the Pirates Of The Caribbean: On Stranger Tides premiere>>