Tuesday 19 June 2012
OMG! One Direction invent dangerous Fruit Ninja knife game to play backstage at concerts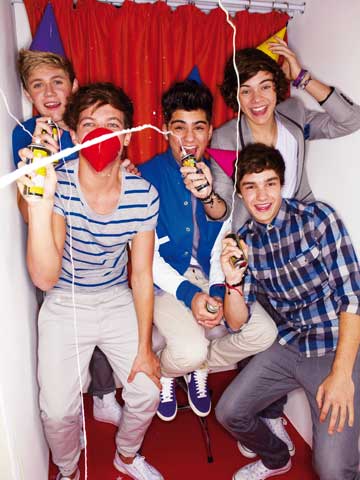 One Direction are currently on tour in the US
One Direction have devised an interesting way to get themselves pumped up before going on stage.
The boys - who are away on their first headline tour of the US until the end of the month - took inspiration from mobile app Fruit Ninja to create a rather dangerous game.
'Don't try this at home,' says Zayn Malik, 19.
'Basically, you throw the fruit in the air and cut it in half.'
Zayn, Louis Tomlinson, 20, plus 18-year-olds Harry Styles, Liam Payne and Niall Horan, will have plenty of time to practice their ninjutsu moves when they embark on a UK arena tour early next year.
The lads' backstage areas are always well-equipped for their hobby.
'Every dressing room we go in,' Liam tells the Daily Record, 'seems to have a chopping board, a knife and a bowl of fruit.'
NEW PICTURES One Direction teen star Harry Styles' rise to fame>>
SEE PICTURES Harry Styles and One Direction perform new song Gotta Be You on German TV show>>
SEE PICTURES Harry Styles and One Direction at Capital FM Jingle Bell Ball 2011>>
SEE EXCLUSIVE VIDEO Teen Now meets Harry Styles and One Direction>>
SEE VIDEO One Direction mobbed by screaming fans in London>>
NEW PICTURES One Direction promote new single What Makes You Beautiful on Radio 1>>
Anna Duff
Harry Styles supports Cancer Research UK

One Direction coming soon


Teen Now meets One Direction part 1
Teen Now meets
One Direction
part 2
Capital FM Jingle Bell Ball part 2