Wednesday 20 June 2012
Lindsay Lohan 'rowed with ex' before her rented Porsche crashed into truck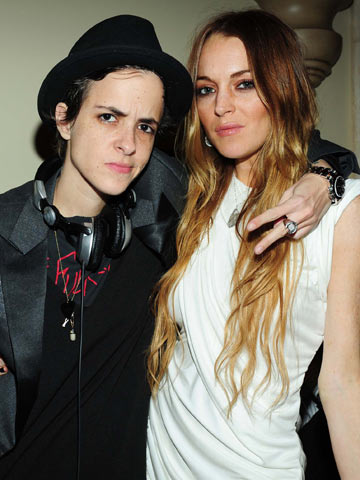 Lindsay Lohan dated Samantha Ronson from 2007 to 2009
Lindsay Lohan argued with ex Samantha Ronson just before her recent crash, a friend tells Now.
Li-Lo's rented Porshe was written off after hitting a truck last week on the Pacific Coast Highway.
Li-Lo, 25, has told pals Sam, 34, has 'been messing with her head' after she'd hoped they could rekindle their romance.
'Lindsay and Sam had a fight on the phone not long before her crash,' says the pal.
On Friday, paramedics were called to Lyndsay's hotel after she was said to be 'non-responsive'. The actress is shooting Liz & Dick and has been putting in long hours.
'Lindsay has been working a gruelling schedule for the last couple of days,' her representative, Steve Honig, told E! News.
'Last night she worked from 7 pm to 8 am. She was exhausted and went back to her room to sleep.
'Producers were apparently concerned and called the fire department and paramedics found her sleeping but determined that she was fine, just extremely exhausted and slightly dehydrated.'
Read more Hollywood gossip in Now magazine dated 25 June 2012 - out now!
SEE PICTURES Lindsay Lohan - child star to Hollywood casualty>>
SEE PICTURES Lindsay Lohan and Samantha Ronson - their story>>