Monday 18 June 2012
BABY JOY! Chantelle Houghton and Alex Reid welcome their little girl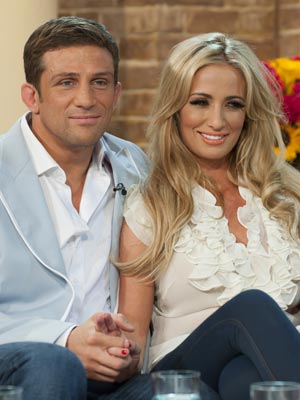 Alex Reid and Chantelle Houghton got engaged in October 2011
Chantelle Houghton and Alex Reid are celebrating the arrival of their baby girl.
The couple, who became engaged live on Irish TV in October 2011, welcomed their first child yesterday.
'I'm delighted to announce the arrival of my beautiful baby daughter early this morning. Both mother and baby doing well..X,' Tweets Alex, 36.
'This really is the most amazing day ever for the 3 of us. Life isn't
good,it's great. I love my girls so much. Happy ecstatic fathers day! X.'
Chantelle hasn't had an easy pregnancy.
The 28-year-old has been suffering from heart palpitations and, after a series of rows, she temporarily moved out of the home she shares with Alex last month.
But the couple managed to work things out before the Celebrity Big Brother winner gave birth.
'After the worst 3 weeks ever, things are a lot better between Alex and me,' Chantelle said last week.
'Any suggestions in the press that I know my relationship with Alex is over are completely untrue.'
SEE PICTURES Chantelle Houghton in Pregnant celebrities>>
SEE PICTURES Celebrity births 2011>>
SEE PICTURES Celebrity births 2010>>
SEE PICTURES Celebrity baby names A to Z>>
Anna Duff