Friday 15 June 2012
VIDEO Katy Perry lookalike: Russell Brand licked cake off me but I didn't give him my number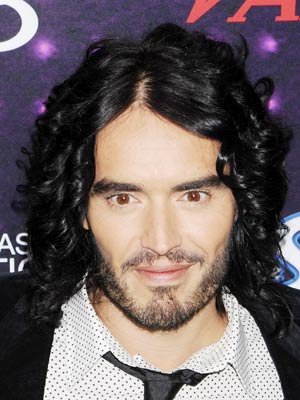 Russell Brand split with Katy Perry in December 2011
Russell Brand threw cake at a reporter with a striking resemblance to his ex-wife Katy Perry before offering to lick it off her.
Emily Hartridge was interviewing Russell, 37, at London's Dorchester Hotel for his new film Rock Of Ages when he began flirting with her.
Though Emma let Russ get his tongue around her elbow, she insists she turned him down.
'He did ask for my number but I didn't give it to him,' says Emily, 28.
'I just don't want to go out with Russell Brand. I don't fancy him so why would I give him my number?'
While Emily isn't keen on a fling with Russell, she wasn't completely unimpressed with her experience of interviewing him.
She's thrilled that she's been favourably compared to the actor's 27-year-old ex-wife since the video of their chat went online earlier this week.
'Katy's absolutely gorgeous so to be compared to her is really nice,' Emily tells the Huffington Post.
'Although I don't think I look like her.'
SEE VIDEO Emily Hartridge interviewing Russell Brand...
SEE PICTURES Russell Brand and Katy Perry - a love story in pictures>>
SEE PICTURES The Celebrity Split 2011>>
SEE PICTURES Katy Perry Style File>>
NEW PICTURES Katy Perry and Russell Brand dress down for day out in New York>>
SEE PICTURES Katy Perry and Russell Brand fight divorce rumours>>
Anna Duff