Thursday 14 June 2012
Jennifer Aniston's boyfriend Justin Theroux: I go to bed thinking I'm the luckiest guy in the world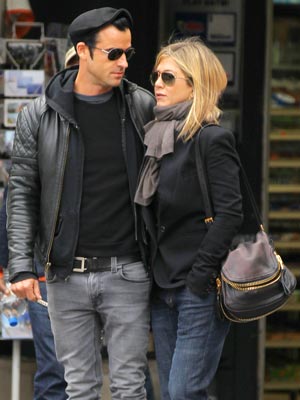 Jennifer Aniston and Justin Theroux have been dating for more than a year
Justin Theroux is feeling pretty smitten at the moment.
The actor feels fortunate to be loved-up with his Wanderlust co-star Jennifer Aniston, 43.
'I always go to bed thinking I'm the luckiest guy in the world,' says Justin, 40.
But Now has learnt that Justin is having a crisis of confidence and thinks he's 'not good enough' for the former Friends actress.
It comes because Jen is insisting Justin sells the £470,000 2-
bedroom house he bought in Hawaii in 2007 because she wants to get something 'bigger and better'.
'He's adapted so much of his lifestyle - from his wardrobe to his interior décor tastes - to make Jen happy,' a friend of Justin's tells us.
'She's even replaced all his sheets and linens 
in his New York apartment.
'Now she's hunting around for 
a Hawaiian holiday home as she thinks his existing one there is too small.'
SEE PICTURES Jennifer Aniston Style File>>
SEE PICTURES Celebrity hair: Jennifer Aniston's styles over the years>>
SEE PICTURES Jennifer Aniston goes topless for perfume ad>>
SEE PICTURES Jennifer Aniston launches new fragrance in London>>
SEE PICTURES Jennifer Aniston shoots new movie>>
Esme Riley