Sunday 17 June 2012
Sinitta: I thought Brad Pitt was quite rude before we dated - but I forgave him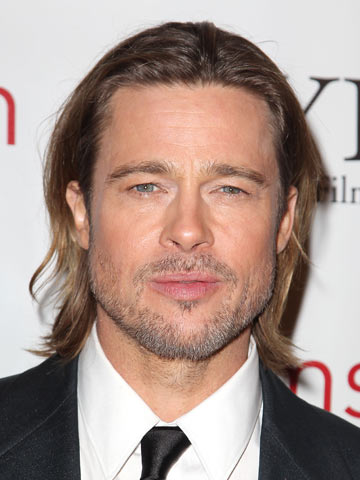 Brad Pitt is now engaged to Angelina Jolie
Simon Cowell
's ex
Sinitta
almost turned down the chance to go out with
Brad Pitt
when he was still a young aspiring actor in the 1980s.
She wasn't impressed with his impersonal style when he got his agent to call hers after seeing her on TV - until she saw his photo in her agent's office.
'I think that's how he used to meet people. I thought it was quite rude,' recalls Sinitta, 43.
'[Then] I was like: "Ooh, who's this? He's cute." They said: "That's the boy who wanted to meet you." I said: "Get him on the phone."'
Brad, 48, who's now engaged to long-term partner Angelina Jolie, wasn't bothered about material things at the start of his career.
He didn't bat an eyelid when he visited Sinitta's London home
shortly after she moved in to find she had no food or furniture apart
from a water bed.
Sinitta tells The Times Weekend: 'He sat on the floor and talked.'
SEE PICTURES Brad Pitt and Angelina Jolie - a love story in photos>>
SEE PICTURES Angelina Jolie - from sultry teenage to sexy Hollywood star>>
SEE PICTURES Brad Pitt and Angelina Jolie's loved-up date at the Super Bowl>>
SEE PICTURES Angelina Jolie and Brad Pitt nuzzle up at Cannes>>
NEW PICTURES I'm A Celebrity...Get Me Out Of Here! 2011 - all the jungle action>>
SEE PICTURES I'm A Celebrity 2011 - the contestants confirmed>>
SEE PICTURES I'm A Celebrity...Get Me Out Of Here! 2011: Stars tipped to appear in the jungle>>
SEE PICTURES I'm A Celebrity...Get Me Out Of Here! 2010 - meet the contestants>>
SEE PICTURES I'm A Celebrity...Get Me Out Of Here! 2009 - stars unveiled>>
Anna Duff