Wednesday 13 June 2012
Cheryl Cole on miming claims: I know I'm no Mariah Carey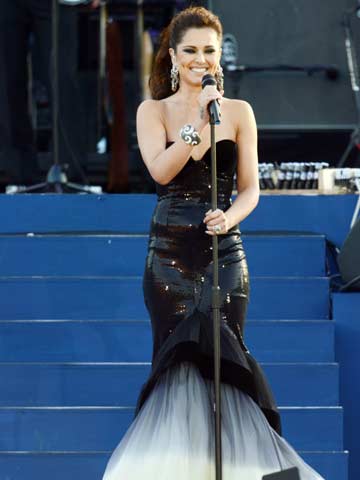 Cheryl Cole sang at the Queen's Diamond Jubilee concert
Cheryl Cole isn't bothered by the criticism she's been getting about the quality of her singing.
The pop star was accused of miming through her recent performance on The Voice and put in a shaky vocal at the Queen's recent Diamond Jubilee concert.
'I know I'm no Mariah Carey but I think the emotion in the song is what matters,' Cheryl, 28, tells Radio 1.
'It's making people feel what you're singing about.'
Cheryl insists she wasn't lip syncing on the BBC talent show and so sees the rumours as something positive.
'If you think my live vocal sounds so good it must be mimed, I'm happy,' Cheryl recently told the BBC.
'I take it as a compliment.'
WATCH VIDEO Cheryl Cole hits the stage on The Voice...
SEE PICTURES Cheryl Cole wears Victoria Beckham>>
NEW PICTURES Cheryl Cole stuns in red hot designer dress at Cannes Film Festival 2012>>
SEE PICTURES Cheryl and Ashley Cole: The story so far>>
SEE PICTURES Cheryl Cole impresses US in sexy mini dress>>
MORE PICTURES Cheryl Cole's sexy black backless dress shows off new tattoo at The Brit Awards>>
Esme Riley