Saturday 16 June 2012
Caroline Flack's friend Gemma Cairney: She was horribly bullied over romance with Harry Styles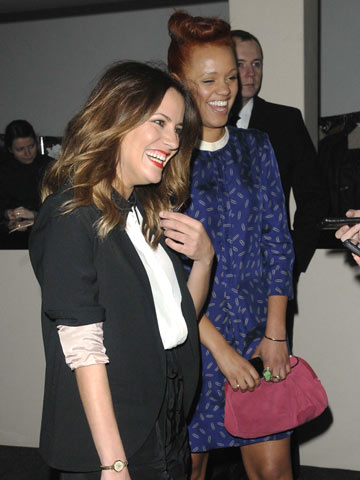 Gemma Cairney says Caroline Flack would be a bridesmaid at her wedding
Radio 1 DJ Gemma Cairney supported close friend Caroline Flack when she was victimised for her romance with Harry Styles.
Caroline, 32, received heavy criticism - and was even sent death threats - for her age-gap relationship with 18-year-old One Direction star Harry.
'My jaw was dropped for most of the time,' says Gemma, 27.
'I just couldn't believe that someone could be so vilified.
'It was a very intense period of time but I think it's over and, at the end of the day, Caroline is just a person.'
Gemma reckons it was Caroline's job as a TV host that made people think it was OK to pick on her throughout the 3-month romance, which ended in January.
'I think people feel removed when they see someone on the telly and in magazines and, obviously, she's pretty gorgeous as well, so I think some people see her as a fictional character,' says Gemma.
'But she's just a young woman with emotions and is clever, funny and really amazing at her job.'
SEE PICTURES Harry Styles and One Direction perform new song Gotta Be You on German TV show>>
SEE PICTURES Harry Styles and One Direction at Capital FM Jingle Bell Ball 2011>>
SEE EXCLUSIVE VIDEO Teen Now meets Harry Styles and One Direction>>
SEE VIDEO One Direction mobbed by screaming fans in London>>
NEW PICTURES One Direction promote new single What Makes You Beautiful on Radio 1>>
EXCLUSIVE PICTURES Caroline Flack shows off exactly what Harry Styles sees in her>>
NEW PICTURES Caroline Flack joins stars at National TV Awards 2012>>
Esme Riley
Harry Styles supports Cancer Research UK
One Direction coming soon

Teen Now meets One Direction part 1
Teen Now meets
One Direction
part 2
Capital FM Jingle Bell Ball part 2 with One Direction