Tuesday 12 June 2012
Robert Pattinson: I want to strangle the person who invented the nickname R-Pattz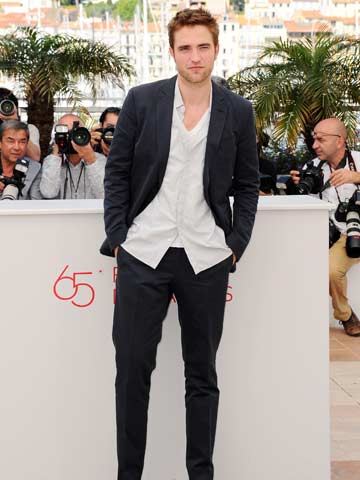 Robert Pattinson plays Eric Packer in Cosmopolis
Robert Pattinson
has admitted that he's not a fan of the name
R-Pattz
.
The actor - whose moniker arose after he shot to fame playing sexy vampire Edward Culllen in the Twilight movies - has found the title particularly annoying since bagging the lead role in new film Cosmopolis.
'When I got this part, every single article that came out, was, "R-Pattz's struggle for credibility,"' he tells The Guardian.
'I don't understand who invented that thing, "R-Pattz". I want to strangle them.'

Does that mean 26-year-old Rob's girlfriend Kristen Stewart , 22, feels the same about being called K-Stew?
PHOTO GALLERY Twilight's Robert Pattinson vs Taylor
Lautner>>
SEE PICTURES The new cast of The Twilight Saga:
Eclipse>>
SEE
PICTURES Taylor Lautner - child star to Twilight
hunk>>
SEE PICTURES Robert Pattinson and Kristen
Stewart's love story>>
SEE
PICTURES The Twilight Saga: New Moon premiere>>
SEE PICTURES Twilight - an international
phenomenon>>
SEE
PICTURES The rise of Robert Pattinson>>
SEE PICTURES Robert Pattinson mobbed by fans on Remember
Me set>>
SEE PICTURES Robert Pattinson stars in Twilight - an international phenomenon>
Beth Shearing