Tuesday 12 June 2012
Victoria Beckham: David buys nice cars and has great taste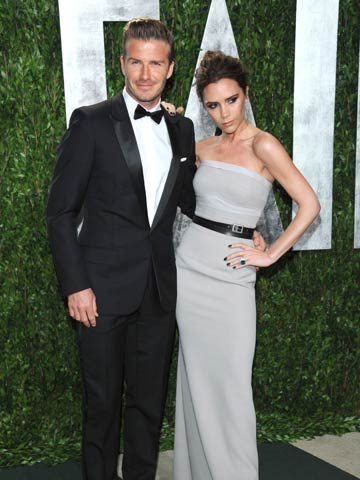 Victoria and David Beckham have been married since 1999
Victoria Beckham says her husband David is 'very bright' and has an 'incredible business brain'.
The 38-year-old stylista - who recently designed her first car, the Range Rover Evoque VB - reckons David, 37, is just as ambitious as she is and has 'big plans himself'.
'He has a great eye,' says Victoria.
'He buys nice cars and has great taste.'
Victoria was thrilled when her clothing range won Designer Brand Of The Year at the British Fashion Awards last year.
She's been working hard to establish a successful career for herself in the area she loves.
'Why shouldn't I design a car? Why not go from being a Spice Girl married to a footballer to be someone taken seriously in the fashion industry?' Victoria tells Top Gear magazine.
'I'm trying to build a serious business and have to stay true to myself.
'I don't want to run before I can walk. I'm so proud of everything I did with the Spice Girls, but this is my passion.'
SEE PICTURES Victoria Beckham and baby Harper Seven dress up to hit the shops>>
SEE PICTURES Victoria Beckham and Eva Longoria take baby Harper Seven to watch dad David play football in LA>>
SEE PICTURES Style queen Victoria Beckham and baby Harper Seven visit Marc Jacobs in New York>>
SEE PICTURES Victoria Beckham and Harper Seven show mum and baby style in New York>>
SEE PICTURES Pregnant Victoria Beckham and husband David leave New York hotel>>
SEE PICTURES Victoria and David Beckham launch new fragrance Signature in New York>>
SEE PICTURES David Beckham's changing hairstyles>>
SEE PICTURES Victoria and David Beckham: A love story in pictures>>
SEE PICTURES Victoria and David Beckham go out for dinner with the Ramsays>>
Anna Duff