Monday 11 June 2012
Zayn Malik worries fans as he performs with his arm in a bandage during One Direction gig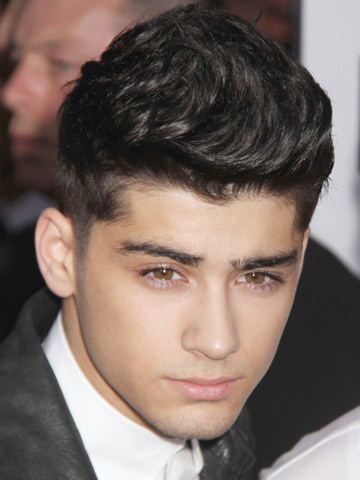 Zayn Malik is dating Little Mix singer Perrie Edwards
Zayn Malik stepped on stage in Las Vegas wearing a bandage on his arm this weekend.
The singer, who's on a headline tour of America with One Direction, prompted a string of worried Tweets from his admirers.
'Omg please don't tell me Zayn has a cast on his arm. omg i'm gonna cry.. @zaynmalik ARE YOU OKAY BABY? :"(,' Tweets a fan.
Another writes: 'What the hell did he do!!??'
Fortunately 19-year-old Zayn's injury wasn't too serious - he'd reportedly suffered a strain during a work out.
Zayn's is just the latest in a long line of 1D accidents - Liam Payne recently broke his toe after losing control of his laptop.
'Dropped a computer on it,' Liam, 18, replied to a fan who asked him how he hurt himself.
NEW PICTURE Zayn Malik and Perrie Edwards kiss goodbye>>
NEW PICTURES The boys are back - Zayn Malik and One Direction return to UK>>
MORE ONE DIRECTION PICTURES The 1D boys have fun in the sun in Australia>>
SEE PICTURES Zayn Malik and One Direction show off hot new hair in sexy magazine shoot>>
SEE PICTURES Zayn Malik and One Direction sign copies of album Up All Night in New York to mark US release>>
SEE PICTURES One Direction continue US tour without Zayn Malik>>
SEE PICTURES One Direction and red carpet guests at the Brits 2012>>
SEE VIDEO Zayn Malik and One Direction mobbed by screaming fans in London>>
Esme Riley

VIDEO: Harry Styles supports Cancer Research UK

VIDEO: One Direction coming soon
VIDEO: Teen Now meets One Direction part 1
VIDEO: Teen Now meets One Direction part 2
VIDEO: Capital FM Jingle Bell Ball part 2 with One Direction