Monday 11 June 2012
Kate Middleton's £48 fake pearl Jubilee earrings sell out in less than 24 hours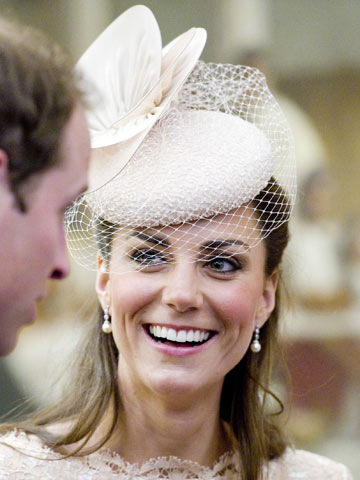 Kate Middleton looked stunning at the Queen's Diamond Jubilee thanksgiving service
Kate Middleton often chooses high street bargains over designer items - and it's not just her clothes that she likes to save money on.
At the Queen's Diamond Jubilee thanksgiving service last Tuesday, the 30-year-old teamed her lace Alexander McQueen dress with a pair of £48 earrings.
Kate bought the dainty drop earrings from jewellery company Heavenly Necklaces, which describes its products as 'fabulous fakes'.
They're made out of a diamond-esque material called cubic zirconia and reconstituted ground freshwater pearls.
Royal fashion fans went crazy for the Duchess's low-price accessories and within 24 hours of her stepping out at St Paul's Cathedral with husband Prince William, 29, the earrings had sold out.
Heavenly Necklaces was later forced to put up a message on its website warning new customers that they're having trouble catering for the high demand.
'This picture really doesn't do justice to how beautiful these pearl and diamond cz pearl drop earrings are - especially for bridal wear or on the balcony last weekend at the Queen's Diamond Jubilee celebrations.
'As a result they've suddenly proved rather popular and we've none left...'
SEE PICTURES Kate Middleton wears Orla Kiely dress for Royal engagement in London with Prince Charles>>
SEE PICTURES Kate Middleton keeps dress hidden under chic grey coat at first Royal engagement without Prince William>>
SEE PICTURES Kate Middleton Style File>>
NEW PICTURES Kate Middleton and Prince William visit riot victims in Birmingham>>
NEW PICTURES Kate Middleton and Prince William dazzle in LA>>
NEW PICTURES Prince William and Kate Middleton on their visit to Prince Edward Island in Canada>>
NEW PICTURES Kate Middleton dazzles at ARK event>>
Anna Duff