Monday 11 June 2012
James Corden pays emotional tribute to 'baby mama' fiancee Julia Carey as he accepts Tony Award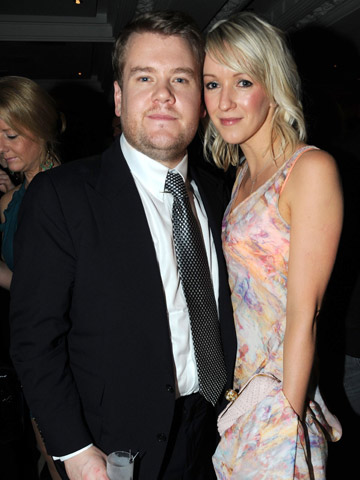 James Corden and Julia Carey got engaged on Christmas Day in 2010
James Corden struggled to hold back his tears after picking up the Best Leading Actor Tony Award for his role in One Man, Two Guvnors.
The comedian dedicated his win to fiancée Julia Carey, 32, who gave birth to their son Max just days before James started rehearsals for the theatre show in March last year.
'She's my baby mama, and I can't wait to marry her,' an emotional James, 33, told the crowd.
'Seriously, I would not be holding this if it wasn't for her.
'She makes me say "us" instead of "I" and "we" instead of "me", and I love her. Thank you very much.'
James beat off competition from the likes of Philip Seymour Hoffman - his 'favourite actor in the world' - to pick up the gong, which is considered Broadway's highest honour.
'To be on a list with you was enough,' James told his fellow nominees.
'Holding this reminds me that there is no such thing as "best".
'I am overwhelmed.'
WATCH James Corden wins Best Leading Actor Tony Award...
NEW PICTURES New dad James Corden enjoys a day in the sunshine with fiancee Julia Carey and baby Max
SEE PICS James Corden recreates David Beckham underwear shot
SEE PICS All the action from the Gavin And Stacey Christmas special
SEE PICTURES Engaged celebrities>>
Esme Riley