Saturday 09 June 2012
Louis Tomlinson: Confident US One Direction fans follow us on skateboards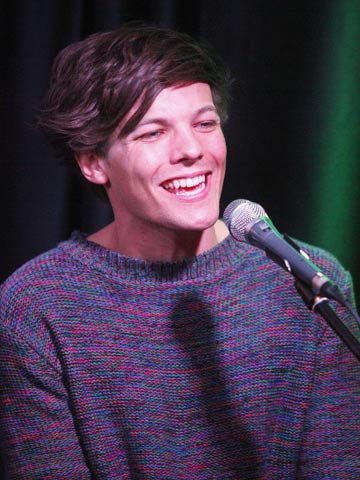 Louis Tomlinson is currently touring the US with One Direction
A group of American One Direction fans have devised an interesting way of getting the boys' attention when they're touring the States.
The eager Directioners keep tabs on 1D's location so they can show off their skater girl moves in front of them.
'It's funny, wherever we go over there they follow us on skateboards, which is really random,' says Louis Tomlinson, 20.
'They do tricks and stuff, they're really good.
'We had to tell one girl that she should wear a helmet. Safety first...'
The boys - who are currently over the pond on their first headline tour of the country - say they've noticed differences between their US fans and their British devotees.
Harry Styles, 18, reckons people in America are a little less subdued.
'They are very confident, more chatty, they really do like to have a conversation,' Harry tells Celebs On Sunday.
'They're not scared to come up to us.'
PICTURES One Direction have fun in the sun in Australia>>
SEE PICTURES One Direction show off hot new hair in sexy magazine shoot>>
SEE PICTURES One Direction sign copies of album Up All Night in New York to mark US release>>
SEE PICTURES One Direction perform new song Gotta Be You on German TV show>>
SEE VIDEO One Direction mobbed by screaming fans in London>>
PHOTO GALLERY Harry Styles' life in pictures>>
SEE PICTURES One Direction continue US tour without Zayn Malik>>
SEE PICTURES One Direction wow at Wolverhampton warm-up concert ahead of Up All Night tour>>
SEE PICTURES Harry Styles and One Direction perform new song Gotta Be You on German TV show>>
Anna Duff

Harry Styles supports Cancer Research UK
One Direction coming soon

Teen Now meets One Direction part 1
Teen Now meets
One Direction
part 2
Capital FM Jingle Bell Ball part 2