Thursday 07 June 2012
Fans worry for 'exhausted and sick' Rihanna after she cancels 10-week stay in the UK at the last minute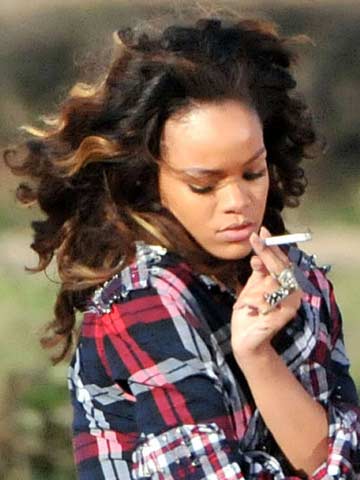 Rihanna is due to headline Wireless Festival in July
Rihanna has reportedly pulled out of her scheduled 10-week stay in the UK because of 'sickness'.
The singer, who was due to arrive in London yesterday to start filming for a new Sky Living show, was last snapped looking exhausted in LA on Monday.
'She cancelled her trip and all work commitments in the UK at the very last minute, which is very unlike her,' a source tells The Sun.
Party girl Rihanna sparked fears for her health last month when she Tweeted a picture of herself hooked up to a drip in hospital.
'Keep your eyes on the finish line and not on the turmoil around you #thinkahead,' Rihanna, 24,cryptically wrote yesterday.
Rihanna is due to play Radio 1's Hackney Weekend this month and headline Wireless Festival in July.
SEE PICTURES Celebrity hair style file: Rihanna>>
SEE PICTURES Rihanna in Stars step out at the Grammys 2012>>
SEE PICTURE Rihanna's new pink knuckle art>>
NEW PICTURES Rihanna is mobbed by fans on Belfast housing estate>>
NEW PICTURES See Rihanna shooting video for We Found Love in Northern Ireland>>
SEE PICTURES Rihanna's style file>>
SEE PICTURES Rihanna's rise to fame>>
Esme Riley