Thursday 07 June 2012
Liam Payne: We poured water down Harry Styles' trousers so he looked like he'd wet himself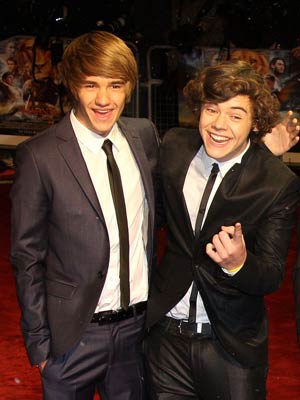 Liam Payne and Harry Styles met on The X Factor in 2010
One Direction have been up to their usual tricks - with Harry Styles their chosen victim.
Louis Tomlinson, 20, Zayn Malik, 19, plus 18-year-olds Niall Horan and Liam Payne, decided to try and embarrass band mate Harry while he was taking a snooze.
'He fell asleep in the dressing room last week,' Liam, 18, tells the Daily Star.
'We poured water down his trousers to make it look like he weed his pants.
'He doesn't care really.'
Harry admits he doesn't usually join in with the group's practical jokes - and therefore often finds himself on the receiving end.
'I am a bit too boring,' says Harry, 18.
'So I am the whipping boy.'
PICTURES One Direction have fun in the sun in Australia>>
SEE PICTURES One Direction show off hot new hair in sexy magazine shoot>>
SEE PICTURES One Direction sign copies of album Up All Night in New York to mark US release>>
SEE PICTURES One Direction perform new song Gotta Be You on German TV show>>
SEE VIDEO One Direction mobbed by screaming fans in London>>
PHOTO GALLERY Harry Styles' life in pictures>>
SEE PICTURES One Direction continue US tour without Zayn Malik>>
SEE PICTURES One Direction wow at Wolverhampton warm-up concert ahead of Up All Night tour>>
SEE PICTURES Harry Styles and One Direction perform new song Gotta Be You on German TV show>>
Esme Riley
Harry Styles supports Cancer Research UK
One Direction coming soon

Teen Now meets One Direction part 1
Teen Now meets
One Direction
part 2
Capital FM Jingle Bell Ball part 2