Tuesday 12 June 2012
Jennifer Aniston 'terrified' of looking old and haggard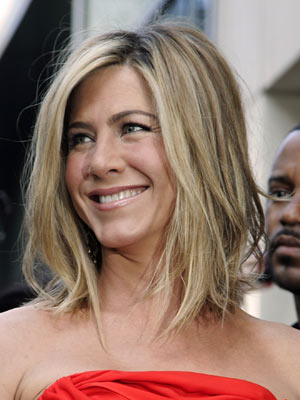 Jennifer Aniston is 43 years old
She's worth millions and has a glittering movie career and a hot man 
- 40-year-old Justin Theroux, who she's been dating for a year - so you'd think that Jennifer Aniston would finally kick back and relax.
But Now can reveal that the 43-year-old actress still has one goal she wants to achieve: to stay looking youthful.
A source says: 'Jen's terrified of looking old and haggard and she'll do anything to stay young.
'When she did an interview with Oprah Winfrey last year she was so worried about her neck looking wrinkly that she chose to wear a poloneck.'
In a recent interview, Jen revealed: 'You know what makes me feel old? When I see the new crop of actresses and think: "Aren't we kind of the same age?" You lose perspective.'
'Or being offered the part of a woman with a 17-year-old child. It's like: "I'm not old enough to have a 17-year-old!" Then you realise, well, yeah, you are.'
SEE PICTURES Jennifer Aniston Style File>>
SEE PICTURES Celebrity hair: Jennifer Aniston's styles over the years>>
SEE PICTURES Jennifer Aniston goes topless for perfume ad>>
SEE PICTURES Jennifer Aniston launches new fragrance in London>>