Wednesday 06 June 2012
One Direction hottie Harry Styles 'no way' allowed to play football in US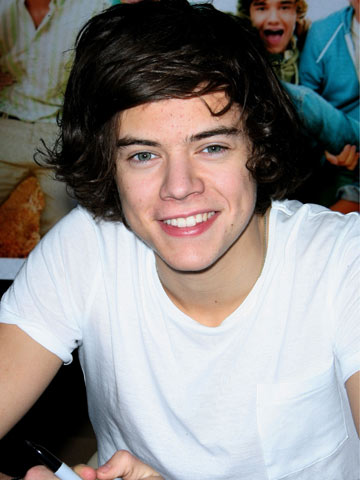 Harry Styles is in the middle of a headline tour of the US with One Direction
Harry Styles is too precious to play football during One Direction's tour of America.
The singer wanted to have a kick about when the boys are in Hollywood next week - but bosses are worried because it could get rough.
'His management team said point blank: "No way",' a source tells the Daily Star.
'They've told him he's not insured if he injures himself.
'It would be a disaster if Harry got hurt and couldn't perform with the rest of the band just for the sake of a game of football.'
And Harry needs to take care of himself - back in February, he had a bad back.
'I have bad posture,' Harry, 18, told The Sun.
'I've been told to take Pilates once a week.'
PICTURES One Direction have fun in the sun in Australia>>
SEE PICTURES One Direction show off hot new hair in sexy magazine shoot>>
SEE PICTURES One Direction sign copies of album Up All Night in New York to mark US release>>
SEE PICTURES One Direction perform new song Gotta Be You on German TV show>>
SEE VIDEO One Direction mobbed by screaming fans in London>>
PHOTO GALLERY Harry Styles' life in pictures>>
Esme Riley
VIDEO: Harry Styles supports Cancer Research UK

VIDEO: One Direction coming soon
VIDEO: Teen Now meets One Direction part 1
VIDEO: Teen Now meets One Direction part 2
VIDEO: Capital FM Jingle Bell Ball part 2 with One Direction