Wednesday 06 June 2012
Chantelle Houghton: I wasn't offended by Alex Reid's 'pregnant' shoot but it has been hard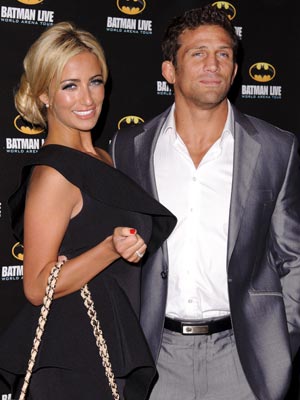 Chantelle Houghton and Alex Reid got engaged in October
Chantelle Houghton
wants to concentrate on the upcoming arrival of her baby rather than the arguments she's been having with fiancé
Alex Reid
.
The reality TV star, who's due to give birth to Alex's daughter this month, has had a far from blissful pregnancy - she temporarily left the home they share following a huge bust up last month.

'The run-up to the birth should be an amazing time but I've had a tough couple of weeks,' says Chantelle, 28.
'I've only officially got 3 weeks until I give birth and that's my priority now.

'Alex and I are having a hard time but we're working through it.

'I want my child to have 2 parents and I'll try my best for that to happen.'
Chantelle insists she 'wasn't offended' by Alex's recent shoot with Now, which saw him wear a pregnancy suit in an effort to experience just how difficult it is to be 8 months gone.
But she does admit they have 'spoken about' some of the comments cage fighter Alex made in our interview.
'There are only two things I do wrong at the moment: everything I say and everything I do,' Alex, 36, told Now's Dan Wootton.
'She is hormonal at the moment and she does get stressed. I say: "Bloody hell woman, come on."
'But if I say it at the wrong time it's on the front page of a paper.'
SEE PICTURES Pregnant Celebrities>>
SEE PICTURES Pregnant Chantelle Houghton and Alex Reid join stars at The Baby Show in London>>

SEE PICTURES Alex Reid and Katie Price's love story in photos>>
PHOTO GALLERY Chantelle Houghton and Preston's love story in photos>>
SEE PICTURES Is Alex Reid the new Peter Andre?>>
SEE PICTURES Alex Reid loves theme parks>>
Esme Riley