Wednesday 06 June 2012
Liam Payne lashes out against Twitter trolls who criticise Danielle Peazer's dancing career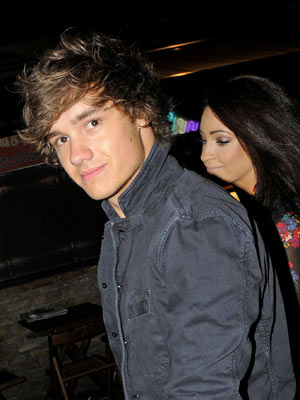 Liam Payne is currently apart from Danielle Peazer as he tours America
Liam Payne has defended Danielle Peazer against Twitter haters who've been sending her abusive messages.
The One Direction star got angry at the online trolls after they claimed Danielle is only a successful dancer because she's going out with Liam.
'Just as I start to like twitter again I see the nasty side of people who like to dislike somebody who makes me ... Me,' Tweets Liam, 18.
'#SometimesIHateTwitter when it becomes a place to abuse people who uve never met never did anything to you but you still choose to be cruel.

'And to all those people who are going to be dicks and tweet her horrible stuff now just because i mentioned it ... boring grow up.

'But to all those people who are nice thank you so much she often reads me nice things people say to her and it makes me smile love you guys.'
Danielle - who met Liam when she was a dancer on The X Factor in 2010 - also lost her temper this weekend after reading the Tweets.
'You don't have to like me or think I'm pretty, but at least give me credit for my own career,' Tweets Danielle, 23.
'I've been doing this job for the past 5 years and for u to think I've only got somewhere because of Liam is disrespectful and plain f***ing stupid.'
It's the second time Liam has lashed out at Twitter abusers - back in
March he got angry after a 1D fan told Danielle to 'go die'.
MORE ONE DIRECTION PICTURES The 1D boys have fun in the sun in Australia>>
SEE PICTURES Liam Payne and One Direction show off hot new hair in sexy magazine shoot>>
SEE PICTURES Liam Payne and One Direction sign copies of album Up All Night in New York to mark US release>>
SEE PICTURES Liam Payne and One Direction continue US tour without Zayn Malik>>
SEE PICTURES Liam Payne and One Direction and red carpet guests at the Brits 2012>>
SEE PICTURES Liam Payne and One Direction perform new song Gotta Be You on German TV show>>
SEE PICTURES Liam Payne and One Direction at Capital FM Jingle Bell Ball 2011>>
SEE EXCLUSIVE VIDEO Teen Now meets One Direction>>
SEE VIDEO One Direction mobbed by screaming fans in London>>
Esme Riley

VIDEO: Harry Styles supports Cancer Research UK

VIDEO: One Direction coming soon
VIDEO: Teen Now meets One Direction part 1
VIDEO: Teen Now meets One Direction part 2
VIDEO: Capital FM Jingle Bell Ball part 2 with One Direction