Saturday 09 June 2012
Pippa Middleton wants to become professional wedding planner after helping Kate with her big day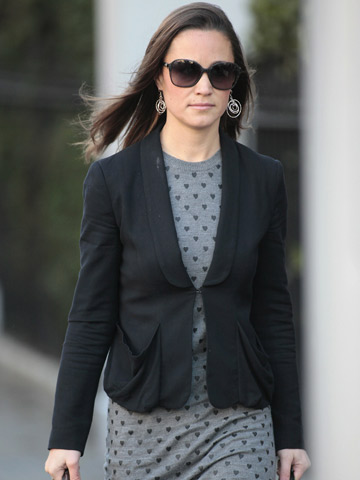 Pippa Middleton is writing a party planning guide
Pippa Middleton is considering taking up a new career as a wedding planner.
Kate's little sister has reportedly left her job at catering company Table Talk after becoming inspired by her sibling's big day last year.
'Pippa helped with the Royal Wedding and weddings don't get much bigger than that,' says a friend.
'She is keen to move into party planning for society wedding receptions - it would be perfect for her.
'She would go down a storm in America, where they are obsessed with royalty and they have a stronger wedding planner industry.'
Pippa - who's currently writing a party planning guide called Celebrate - has already proved she's got a flair for helping with the details.
The 28-year-old pleased Kate, 30, and her husband Prince William, 29, by placing scented candles and bowls of sweets on guests' tables at their wedding reception in April 2011.
She also lent a hand at her friend Camilla Hook's nuptials last month.
'There was a lot of talk after Camilla Hook's wedding about how well Pippa did,' the friend tells the Mail On Sunday.
'She helped out more than people realised with the preparation and even handed out bacon sandwiches at the end of the reception.'
Pippa Middleton wearing Dannii Minogue's label Project D to wedding>>
SEE PICTURES Tennis fan Pippa Middleton braves the rain in denim>>
SEE PICTURES Pippa Middleton stays fit with a run at the Blenheim Triathlon>>
Pippa Middleton enjoys a day at the French Open tennis tournament in Paris>>
MORE PICTURES Amazing facts about Kate Middleton - Prince William's wedding belle>>
SEE PICTURES Prince William revealed! Amazing facts about Kate Middleton's man>>
SEE PICTURES Kate Middleton and Prince William: Their love story in photos>>
ROYAL WEDDING GALLERY See the guests arrive for Prince William and Kate Middleton's special day>>
Anna Duff