Tuesday 05 June 2012
1D star Niall Horan's ex Holly Scally: Niall was a lovely boyfriend and sang me Justin Bieber songs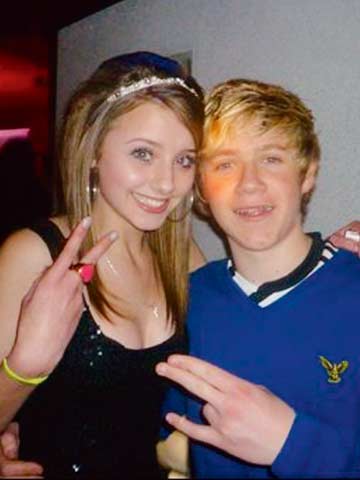 Holly Scally met Niall Horan when she was 13
What's it really like to date Irish
One Direction
star
Niall Horan
?
In an exclusive interview, 
Holly Scally, 16, who dated Niall, 18, for nine months, tells us.
He may be worth £2 million 
now but two years ago the blond cutie's pocket money didn't stretch very far.
Holly reveals: 'We didn't have much cash. On one date, Niall took me to Roma Café in Mullingar 
for some chips which probably cost about two Euros [£1.60].
'Even back then, I knew he'd 
go far.
'He was always singing and playing his guitar and was really good.
'He used to sing me songs he'd written or covers, like Justin Bieber's Baby or Jason Mraz's 
I'm Yours.
'Once he paid 15 Euros [£12] to hire a boat and rowed me across a lake while singing to me.'
Read more about Holly Scally and Niall Horan and see more pictures of the pair in Now magazine dated 11 June 2012 - out now!
PICTURES Niall Horan and the 1D boys have fun in the sun in Australia>>
SEE PICTURES Niall Horan and One Direction show off hot new hair in sexy magazine shoot>>
SEE PICTURES Niall Horan and One Direction sign copies of album Up All Night in New York to mark US release>>
SEE PICTURES Niall Horan and One Direction perform new song Gotta Be You on German TV show>>
SEE VIDEO Niall Horan and One Direction mobbed by screaming fans in London>>