Friday 01 June 2012
Kylie Minogue: I'm going to have a 'bum-off' with Pippa Middleton at Queen's Diamond Jubilee concert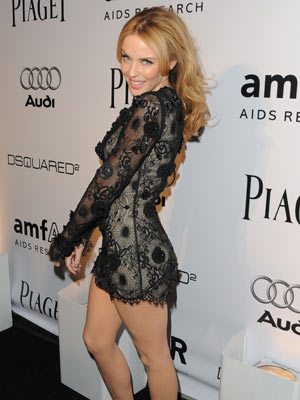 Kylie Minogue knows she has great buttocks
Kylie Minogue is feeling pretty confident about her best asset.
The Aussie singer is putting so much faith in her pert behind that she's even challenging Pippa Middleton, 28, and her famously perfect posterior to a 'bum-off' at the Diamond Jubilee concert.
'I'm going to have to,' says Kylie, 44.
'I'll definitely have to (bend over and) pick something up off the ground.'
Pippa's bottom was brought to the nation's attention when she stepped out at sister Kate's Royal Wedding in April last year - and it even has its own Facebook Appreciation Society.
And Kylie's tiny tush was adored by millions when she wore gold hot pants in her video for Spinning Around.
Kylie and a string of stars will perform for the Royal Family to celebrate the Queen's 60 years on the throne on Monday.
'I can't tell you too much about the performance,' Kylie tells comedian Alan Carr.
'But what I can say is I'm going to do a medley.'
SEE PICTURES Kylie Minogue shoots sexy new All The Lovers video>>
SEE PICTURES Kylie Minogue Style File>>
Pippa Middleton wearing Dannii Minogue's label Project D to wedding>>
SEE PICTURES Tennis fan Pippa Middleton braves the rain in denim>>
SEE PICTURES Pippa Middleton stays fit with a run at the Blenheim Triathlon>>
Pippa Middleton enjoys a day at the French Open tennis tournament in Paris>>
MORE PICTURES Amazing facts about Kate Middleton - Prince William's wedding belle>>
SEE PICTURES Prince William revealed! Amazing facts about Kate Middleton's man>>
SEE PICTURES Kate Middleton and Prince William: Their love story in photos>>
ROYAL WEDDING GALLERY See the guests arrive for Prince William and Kate Middleton's special day>>
Esme Riley