Thursday 31 May 2012
Eleanor Calder hits back at 'deluded' 1D fan who thinks her relationship with Louis Tomlinson is fake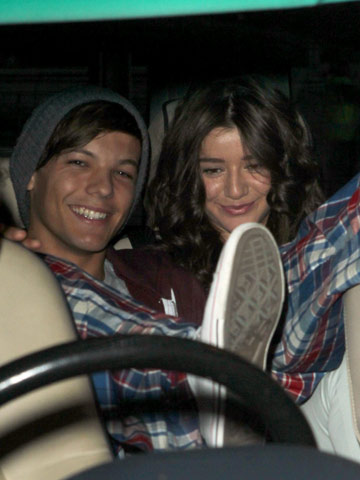 Eleanor Calder is currently visiting Louis Tomlinson during his tour of America
Eleanor Calder has had enough of being abused on Twitter.
The 19-year-old part-time model lashed out after a One Direction fan suggested her relationship with Louis Tomlinson isn't genuine.
'@EleanorJCalder I hope your contract is expiring soon,' Tweeted the 1D follower, who's convinced Louis, 20, is actually in a relationship with band mate Harry Styles, 18, and that he doesn't love Eleanor at all.
The 17-year-old American even claims to have been privately messaged by Louis, who told her he was angered by such 'crazy rumours'.
'Sorry to be blunt but I hope you can take a step back and realise that you are completely deluded,' replied Eleanor.
PICTURES Louis Tomlinson and the 1D boys have fun in the sun in Australia>>
SEE PICTURES Louis Tomlinson and One Direction show off hot new hair in sexy magazine shoot>>
SEE PICTURES Louis Tomlinson and One Direction sign copies of album Up All Night in New York to mark US release>>
SEE PICTURES Louis Tomlinson and One Direction perform new song Gotta Be You on German TV show>>
SEE VIDEO Louis Tomlinson and One Direction mobbed by screaming fans in London>>
Esme Riley
Harry Styles supports Cancer Research UK



One Direction coming soon
Teen Now meets One Direction part 1
Teen Now meets One Direction part 2
Capital FM Jingle Bell Ball part 2