Sunday 03 June 2012
Kate Middleton begs Pippa: Don't upstage me during Diamond Jubilee!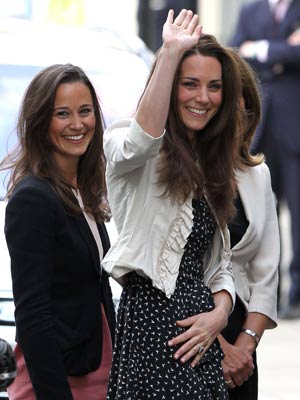 Kate Middleton is normally very close to sister Pippa
Kate Middleton, 30, has told friends she fears party-loving sister Pippa Middleton will upstage her over the Jubilee Celebrations, but why is the Duchess of Cambridge so nervous about what the 28-year-old will do?
Here's the Pippa Middleton problem...
Wild partying
In April Pippa was pictured at a debauched bash 
in Paris that featured a stripper emerging from a cake to God Save The Queen.
Stealing Kate Middleton's style
The ultimate slap in the face: Pippa donned a pink version of Kate's Issa engagement dress for a friend's wedding last week. Is nothing sacred?
The blagging
Pippa's been known to cash in on the freebies, lapping up VIP treatment at last year's French Open.
Selling out
Pippa's set to earn a reported £400,000 for her party planning 
book Celebrate, due to be published in October. She'll be expected 
to discuss the Royals 
in US interviews.
That bottom
All eyes should have been on Kate Middleton at the Royal Wedding, but Pippa's curvy rear stole the show.
Read the full story about Kate and Pippa Middleton in Now magazine dated 4 June 2012 - out now!
Pippa Middleton wearing Dannii Minogue's label Project D to wedding>>
SEE PICTURES Tennis fan Pippa Middleton braves the rain in denim>>
SEE PICTURES Pippa Middleton stays fit with a run at the Blenheim Triathlon>>
Pippa Middleton enjoys a day at the French Open tennis tournament in Paris>>
MORE PICTURES Amazing facts about Kate Middleton - Prince William's wedding belle>>
SEE PICTURES Prince William revealed! Amazing facts about Kate Middleton's man>>
SEE PICTURES Kate Middleton and Prince William: Their love story in photos>>
ROYAL WEDDING GALLERY See the guests arrive for Prince William and Kate Middleton's special day>>