Wednesday 30 May 2012
One Direction's Louis Tomlinson in naked man shock at Swedish hotel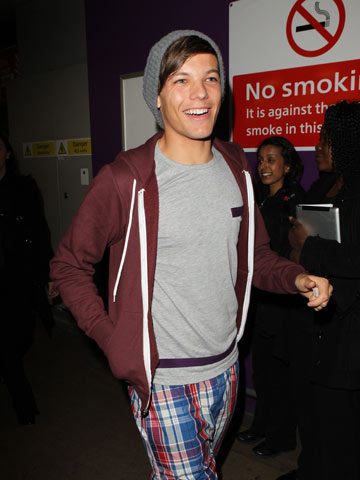 One Direction's Louis Tomlinson is now on tour in the US
Louis Tomlinson has been flying all over the world this year with One Direction, with fans trying to get close to him in every city.
So when the 20-year-old singer heard noises outside his hotel room at 5am in Sweden recently, he thought it was another Directioner with autograph book in hand.
Instead, he spotted a bloke who was completely starkers.
'Louis heard the noise because he wasn't sleeping well with jet-lag and at first he thought it would be another fan who had sneaked past minders,' a pal tells The Sun.
'When he saw it was a small naked man he called security, who sorted it out.
'This bloke wasn't even a hotel guest, but a drunk who was looking for a toilet.'
PICTURES Louis Tomlinson and the 1D boys have fun in the sun in Australia>>
SEE PICTURES Louis Tomlinson and One Direction show off hot new hair in sexy magazine shoot>>
SEE PICTURES Louis Tomlinson and One Direction sign copies of album Up All Night in New York to mark US release>>
SEE PICTURES Louis Tomlinson and One Direction perform new song Gotta Be You on German TV show>>
SEE VIDEO Louis Tomlinson and One Direction mobbed by screaming fans in London>>
VIDEO: Harry Styles supports Cancer Research UK

VIDEO: One Direction coming soon
VIDEO: Teen Now meets One Direction part 1
VIDEO: Teen Now meets One Direction part 2
VIDEO: Capital FM Jingle Bell Ball part 2 with One Direction