Wednesday 30 May 2012
One Direction's Louis Tomlinson and girlfriend Eleanor Calder have family dinner disaster in New York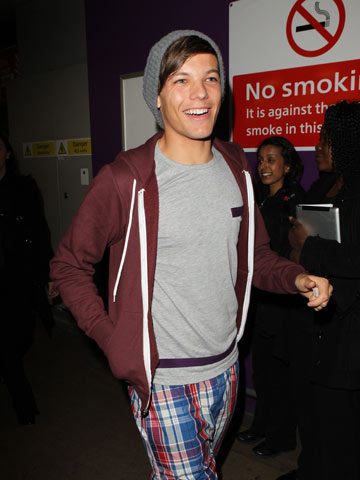 One Direction's Louis Tomlinson is on tour in the US
One Direction's Louis Tomlinson has got himself into a bit of a spat with a New York eatery.
The 20-year-old singer dined out with his family and decided to tell his Twitter followers about his night out.
'Just had the worst customer service....only went there to take my grandad out for dinner :(,' he Tweeted.
A Twitter storm followed, with some fans branding him a 'diva', but Louis's girlfriend Eleanor Calder joined in to claim that a waiter's 'shockingly rude attitude' was to blame.

'Louis was defending his little sister and I after we were told to 'shut up and listen' before deciding what we wanted to eat (we already knew what we wanted),' she told her followers.

The restaurant has since Tweeted their reaction, thanking followers for their support and apologising for the 'hullabaloo'.
PHOTO GALLERY Harry Styles' life in pictures>>
PICTURES Harry Styles and the 1D boys have fun in the sun in Australia>>
SEE PICTURES Harry Styles and One Direction show off hot new hair in sexy magazine shoot>>
SEE PICTURES Harry Styles and One Direction sign copies of album Up All Night in New York to mark US release>>
SEE PICTURES Harry Styles and One Direction perform new song Gotta Be You on German TV show>>
SEE VIDEO Harry Styles and One Direction mobbed by screaming fans in London>>
Orla Broderick
VIDEO: Harry Styles supports Cancer Research UK

VIDEO: One Direction coming soon
VIDEO: Teen Now meets One Direction part 1
VIDEO: Teen Now meets One Direction part 2
VIDEO: Capital FM Jingle Bell Ball part 2 with One Direction