Wednesday 30 May 2012
Harry Styles gets a brand new Hollywood smile in New York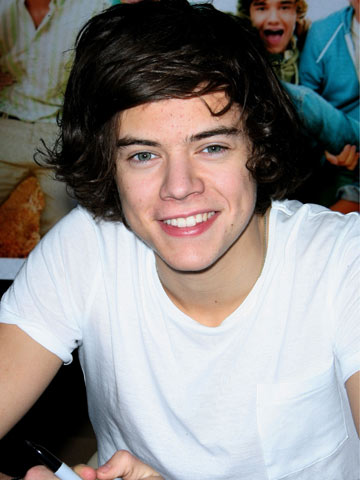 One Direction were formed during the audition stages of The X Factor in 2010
Harry Styles now has a dazzling Hollywood grin.
The One Direction hottie has been having his teeth whitened in New York because a gleaming white smile is a must-have in the US for TV appearances.
But Harry, 18, doesn't look his best with his mouth full of dental apparatus - and band mates Louis Tomlinson, 20, Zayn Malik, 19, Niall Horan, 18, and Liam Payne, 18, are all bound to tease him about wearing a paper apron to get his film star new look.
'If there are ever any embarrassing pictures of one of us...that's always worth a few days of mickey taking,' the teenager told Teen Now before flying off to the States.
'Or we all like to take pictures of each other when we're not looking or asleep - there have been some good ones, let me tell you!'
SEE PICTURES Celebrity teeth - see who's got brand new smiles>>
SEE PICTURES One Direction sign copies of album Up All Night in New York to mark US release>>
SEE PICTURES One Direction continue US tour without Zayn Malik>>
SEE PICTURES One Direction and red carpet guests at the Brits 2012>>
SEE PICTURES Harry Styles and One Direction perform new song Gotta Be You on German TV show>>
SEE PICTURES Harry Styles and One Direction at Capital FM Jingle Bell Ball 2011>>
SEE EXCLUSIVE VIDEO Teen Now meets Harry Styles and One Direction>>
SEE VIDEO Harry Styles and One Direction mobbed by screaming fans in London>>
VIDEO: Harry Styles supports Cancer Research UK

VIDEO: One Direction coming soon
VIDEO: Teen Now meets One Direction part 1
VIDEO: Teen Now meets One Direction part 2
VIDEO: Capital FM Jingle Bell Ball part 2 with One Direction