Saturday 02 June 2012
Prince Harry tells Chelsy Davy: Make up your mind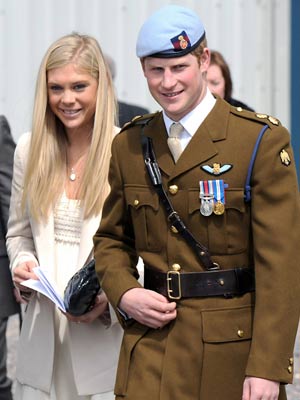 Prince Harry and Chelsea Davy split up just before the Royal Wedding last April
Now can reveal that
Prince Harry
has invited his ex
Chelsy Davy
, 26, to the
Jubilee celebrations
in a bid to get her back for good.
They've shared several hook-ups lately and sources say Harry, 27, has been constantly texting her wanting 
to take things to the next level.
He's now told her she needs to 'make her mind up' whether she wants a public life with him or not.
'Harry's never been able to move on from Chelsy no matter how hard he's tried,' says an insider.
'Although things are moving in the right direction he still feels that Chelsy's holding back, which is frustrating for him.
'Chelsy's problem is that while she loves Harry she dreads the thought of living Kate Middleton's lifestyle.'
Harry and Chelsy were seen looking loved-up during pal Holly Branson's 'secret festival' in Berkshire recently.
Read more Prince Harry and Chelsy Davy news in Now magazine dated 4 June 2012 - out now!
SEE PICTURES Prince Harry and Chelsy Davy: A love story in pictures>>
SEE PICTURES Prince Harry beats Usain Bolt in a sprint on Diamond Jubilee visit to Jamaica>>
SEE PICTURES Prince Harry jets to Belize and the Bahamas on Diamond Jubilee tour>>
SEE PICTURES Prince Harry completes charity day trade>>
PHOTO GALLERY Prince Harry's former girl Florence Brudenell-Bruce models lingerie>>