Wednesday 23 May 2012
Brad Pitt: Angelina Jolie and I have no wedding date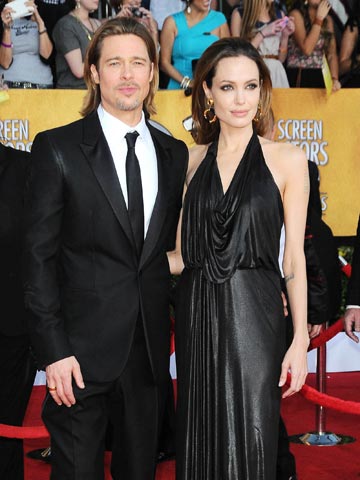 Brad Pitt and Angelina Jolie have 6 kids
Brad Pitt is clearly in no rush to make Angelina Jolie his wife.

The pair, who have been dating for 8 years, got engaged in April - but they're yet to start organising their big day.
'We actually, truly, have no date! Brad, 48, tells the Daily Mirror.
Nonetheless, it seems other stars are keen to get involved with Brad and 36-year-old Ange's big day - whenever it happens.
Fashion designer Victoria Beckham, 38, is said to want to create Angelina's wedding dress.
Our source tells us: 'Victoria knows she could design something really amazing and breathtaking.'
SEE PICTURES Brad Pitt and Angelina Jolie - a love story in photos>>
SEE PICTURES Angelina Jolie - from sultry teenage to sexy Hollywood star>>
SEE PICTURES Brad Pitt and Angelina Jolie's loved-up date at the Super Bowl>>
SEE PICTURES Angelina Jolie and Brad Pitt nuzzle up at Cannes>>
Esme Riley