Tuesday 22 May 2012
Katie Price plans a £30,000 face and body overhaul for wedding No 3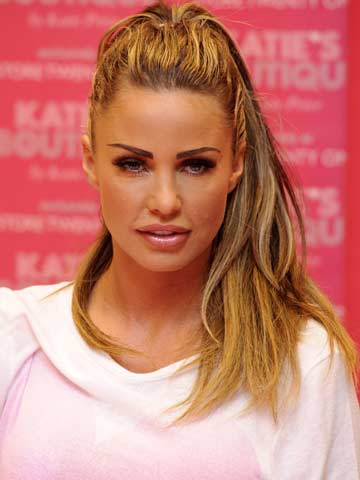 Katie Price wants to look the hottest she ever has
Most brides would 
be more than happy with a £30k budget for their entire wedding.
But Katie Price, 34, isn't most brides.
She has yet to finalise her wedding expenditure, but has set aside the five-figure sum for arguably the most important thing to her on the 
big day: the way she looks. 

That includes giving her face 
and body a complete overhaul before walking down the aisle 
with fiancé Leandro Penna, 26.
'It's Katie's third wedding and she wants to look the hottest she ever has,' reveals a source.
'She's saying this is the final time and these are the pictures they'll have for ever, so she wants to make 
sure she looks amazing in them.'
As well as forking out around £9k for a personal trainer and £8k on a top-notch dietician, the model is said to be discussing a number of other improvements before the 
big day.
'She's planning new hair extensions, more lip fillers and Botox,' reveals our source.
'Her body's amazing but she wants 
to be perfectly toned.'
We hear Katie's also wanting £1.8k of body masks and massages and 
£3k worth of thermal contours.
Katie's spokesperson has denied she's considering any more cosmetic work.
Read the full story on Katie Price in Now magazine dated 28 May 2012 - out now!
SEE PHOTOS Katie Price and Leandro Penna: a love story in pictures>>
SEE PICTURES Katie Price and Alex Reid's love story in photos>>
SEE PICTURES Kate Price and Peter Andre: A love story in photos>>
SEE PICTURES Celebrity splits 2011>>
SEE PICTURES Celebrity weddings 2011>>