Monday 21 May 2012
Christine Bleakley gives Frank Lampard congratulatory kiss after Chelsea win Champions League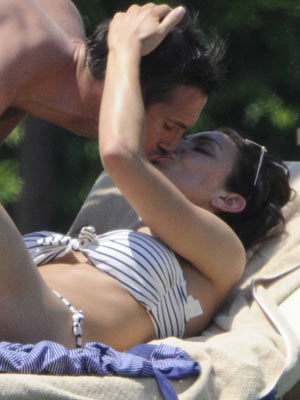 Frank Lampard and Christine Bleakley got engaged in June 2011
Loyal Christine Bleakley supported Frank Lampard through Chelsea's Champions League final match against Bayern Munich in Germany this weekend.
The TV presenter painted her nails blue and wrapped up in a team scarf as she watched her man's team win on penalties after a 1-1 draw.
NEW PICTURE Christine Bleakley gives Frank Lampard a congratulatory kiss>>
'Thank you so much for your tweets. Incredibly proud of my fiancé and Chelsea tonight. We're partying now people xxxx,' wrote Christine, 33, after the game.
She then posted an adorable photo in which she's cuddling up to Frank, 33, and giving him a kiss on the cheek.
Christine also made time to cheer on her fiancé at the team's victory parade back home in the capital.
'It's a sea of blue in Chelsea,' Tweeted Christine, along with a snap of the players holding up the cup on their bus.
SEE PICTURES Frank Lampard and Christine Bleakley holiday in Sardinia>>
PICTURE GALLERY Frank Lampard and Christine Bleakley - a love story>>
SEE PICTURES Christine Bleakley and Frank Lampard get the giggles>>
SEE PICTURES Christine Bleakley's night out with Frank Lampard>>
SEE PICTURES Christine Bleakley and Frank Lampard's loved-up date>>
Esme Riley