Monday 21 May 2012
SAD NEWS Bee Gees star Robin Gibb dead at 62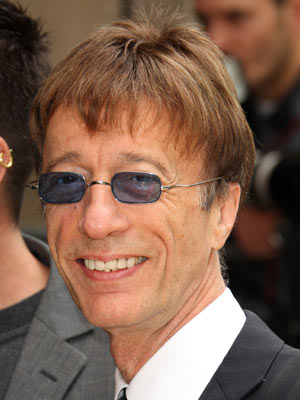 Robin Gibb was hoping for a miracle
Bee Gees legend Robin Gibb has died.
'The family of Robin Gibb, of the Bee Gees, announce with great sadness that Robin passed away today following his long battle with cancer and intestinal surgery,' Robin's loved ones have confirmed in a statement.
'The family have asked that their privacy is respected at this very difficult time.'
Robin, whose twin brother Maurice died in 2003 aged 53 after developing a twisted intestine, first experienced stomach pains in 2010.
He was diagnosed with colon cancer last year, which spread to the liver.
After chemotherapy and surgery, Robin declared he was feeling fantastic but contracted pneumonia and fell into a coma.
'I wish to thank my family, friends and fans and the many thousands of people who do not know me but have enjoyed Bee Gees music and have wished me well,' Robin wrote on his website after telling the world about his illness.
'I am very touched by your love, kindness and support.
'This concern from people all over the world has demonstrated the depth of feeling and love that the Bee Gees have achieved over the years. It is humbling and I take your prayers and good wishes for my health very seriously.
'I have been very unwell and am now on the road to recovery, and your prayers and wishes are a great tonic to me. I believe because of you I will get well and my deepest love goes out to you all. Robin xxxx.'
PICTURES Celebrity deaths 2012>>
PICTURES Celebrity deaths 2011>>