Friday 18 May 2012
WEDDING JOY! Izzy Johnston shows off stunning engagement ring from McFly star Harry Judd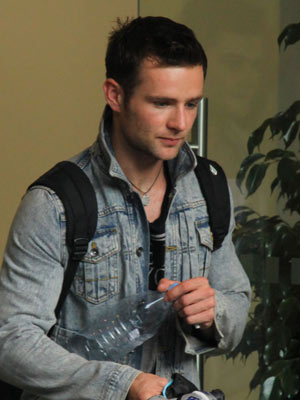 Harry Judd has been dating Izzy Johnston for 7 years
Harry Judd's new fiancée Izzy Johnston has been proudly flashing her new engagement ring - and we don't blame her.
McFly star Harry, who met violinist Izzy when she performed as part of the string section on the band's 2005 tour, proposed over a candlelit meal on the Caribbean island of St Lucia yesterday.
'Couldn't be happier! My beautiful @izzyeyesalight and I are
engaged! Thank you to @rendezvoushotel for making it so special! xxx,' Tweeted Harry, 26.
A photo of Harry and Izzy, 28, together after the big moment shows her wearing a huge diamond rock on her finger.
SEE PICTURE Izzy Johnston's engagement ring from Harry Judd>>
The couple's news comes just days after Harry's band mate Tom Fletcher, 26, got married to his childhood sweetheart Giovanna Falcone.
'So thrilled for @mcflyharry and @izzyeyesalight on their engagement. CONGRATULATIONS FRIENDS!!! Can't wait to celebrate.Love is the best!xxx,' Tweeted Giovanna, 27.
NEW PICTURES Harry Judd and Strictly Come Dancing Stars arrive at rehearsals>>
NEW PICTURES Harry Judd in Strictly Come Dancing 2011 - contestants' dance partners for new series revealed>>
NEW PICTURES McFly star Tom Fletcher's new fiancee Giovanna Falcone shows off engagement ring>>
SEE PICTURES Engaged Celebrities>>
SEE PICTURES Celebrity weddings 2011>>
Esme Riley