Wednesday 16 May 2012
Rehab fears for Rihanna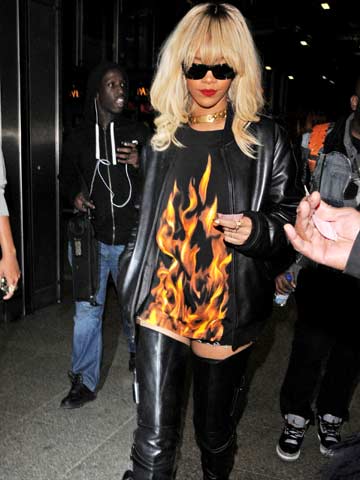 Rihanna returns to the UK in July to headline at Wireless Festival
Could Rihanna be on the road to rehab?
The party-loving singer shocked fans last week after posting a Twitter picture of herself on a hospital drip, following an all-night bender at New York's Met Ball.
The singer later suggested she was at a private medical centre after being worn out by a bout of flu.
However, it's escalated fears that Ri-Ri, 24 - pictured barefaced in NY last week - is overdoing the partying.
She enraged Saturday Night Live bosses two weeks ago by missing a rehearsal due to illness and tiredness.
Last month she was pictured cutting up white powder off a friend's head at the Coachella Festival.
Read more about Rihanna in Now magazine dated 21 May 2012 - out now!
SEE PICTURES Rihanna in Stars step out at the Grammys 2012>>
SEE PICTURES Celebrity Hair: Rihanna>>
SEE PICTURE Rihanna's new pink knuckle art>>
NEW PICTURES Rihanna is mobbed by fans on Belfast housing estate>>
NEW PICTURES See Rihanna shooting video for We Found Love in Northern Ireland>>
SEE PICTURES Rihanna's style file>>
SEE PICTURES Rihanna's rise to fame>>