Sunday 27 May 2012
Adele: I wore 4 pairs of tight pants under my Armani dress at the Grammys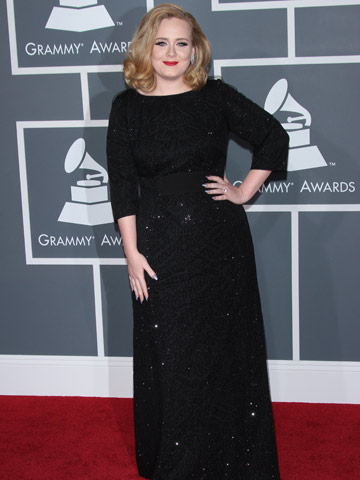 Adele looked stunning on the red carpet at the Grammys in February
Adele has revealed she was hiding something under her glamorous floor-length gown at the Grammy Awards in February.
The 24-year-old star, who won all 6 awards she was nominated for on the night, ensured she was well and truly sucked in before taking to the stage to accept her gongs.
'I had 3 or 4 pairs of Spanx on,' says Adele.
Adele looked stunning in a figure-hugging sequined Armani dress as she debuted a slimmer figure and blonder 'do at the ceremony in LA.
But the singer, who's currently dating charity boss Simon Konecki, 36, almost never got to wear the glitzy frock at all.
'I actually had another dress made for the Grammys and passed out in it,' Adele tells the Daily Mirror.
'It had a corset so I was like: "I can't wear that!" and ended up with the other one.'
SEE PICTURES Adele's life story>>
SEE PICTURES See Adele and all the stars at the Brit Awards 2011>>
SEE PICTURE GALLERY Adele takes the Grammys 2009 by storm>>
Anna Duff