Thursday 10 May 2012
Pregnant Chantelle Houghton: There are panic buttons all over my house - I'm a nervous wreck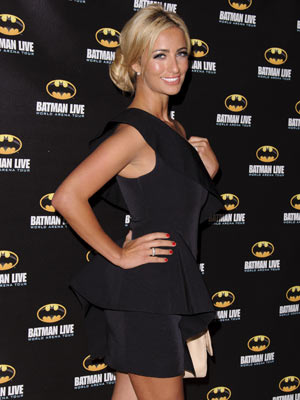 Chantelle Houghton got engaged to Alex Reid in October 2011
Chantelle Houghton has revealed that she's 'terrified' about staying at home alone.
The heavily pregnant reality star, whose fiancé Alex Reid, 36, is away touring with Wildboyz, admits she's got the urge to lock herself in a room 'and not come out for a while'.
'I don't know why I am so scared,' says Chantelle, 28.
'I am frightened out of my life about everything.
'I am scared of my own shadow.
'Maybe it's my hormones.
'I think someone's going to come and get me. I'm a nervous wreck.'
Chantelle and Alex have just moved in to a new rented home in Brentwood - and she's taking no chances.
'There are panic buttons in every room in the house,' says Chantelle.
'I've got a button and every shutter goes down on the house when I press it.'
SEE PICTURES Pregnant Chantelle Houghton and Alex Reid join stars at The Baby Show in London>>

SEE PICTURES Alex Reid and Katie Price's love story in photos>>
PHOTO GALLERY Chantelle Houghton and Preston's love story in photos>>
SEE PICTURES Is Alex Reid the new Peter Andre?>>
SEE PICTURES Alex Reid loves theme parks>>
Esme Riley