Thursday 10 May 2012
Wayne and Coleen Rooney's horse Pippy comes in last place on its racing debut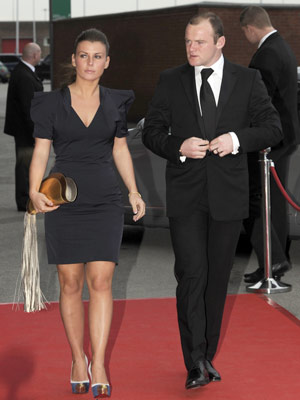 Coleen and Wayne Rooney married in 2008
Wayne and Coleen Rooney braved the rain yesterday to watch one of their 3 racehorses compete at Chester.
But the couple, who'd put 'a few quid' on 2-year-old Pippy, came away disappointed when the colt crossed the finishing line in last place.
'He's being thrown in at the deep end as we wanted to run at Chester,' Pippy's trainer Tom Dascombe explained before the race.
Footballer Wayne and wife Coleen have a trio of horses, which they keep at his Manchester United team mate's Michael Owen's stables in Cheshire.
Switcharooney is expected to race this season, while Tomway - named after Wayne's dad - runs today.
Wayne has revealed that Pippy's name was inspired by 26-year-old wife Coleen.
'My wife was called Pippy when she was younger,' says Wayne, 26.
SEE PICTURES Wayne and Coleen Rooney - their love story so far>>
SEE PICTURE Wayne Rooney's tattoo in honour of baby Kai>>
SEE PICTURES Wayne and Coleen Rooney's wedding photos>>
Esme Riley