Wednesday 09 May 2012
Rihanna considering £1 million offer to pose naked 'in classy way' for Playboy?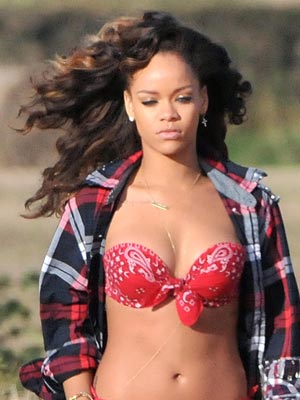 Rihanna works hard to maintain her fit figure
Rihanna could soon be baring her bod for American men's magazine Playboy.
The sexy singer is renowned for her risqué on-stage performances and sexy music videos - so the publication's founder Hugh Hefner, 86, reckons Rihanna would be a perfect cover star.
'She is at the top of her game - beautiful, sexy and with huge international appeal,' a source tells the Daily Star.
'Playboy is not a sleazy magazine either, and allows the stars to get nude in a classy and sophisticated way.'
Hef has reportedly offered Rihanna more than £1m to strip and the pair are said to be in top secret discussions.
Rihanna has admitted in the past that her confidence grew as she became less inhibited with her body.
'The more naked I got, the more comfortable I felt,' Rihanna, 24, told Women's Fitness.
'I just had to face my fear.'
SEE PICTURES Celebrity Hair: Rihanna>>
SEE PICTURES Rihanna in Stars step out at the Grammys 2012>>
SEE PICTURE Rihanna's new pink knuckle art>>
NEW PICTURES Rihanna is mobbed by fans on Belfast housing estate>>
NEW PICTURES See Rihanna shooting video for We Found Love in Northern Ireland>>
SEE PICTURES Rihanna's style file>>
SEE PICTURES Rihanna's rise to fame>>
Esme Riley